WELCOME TO GTS DOLPHIN
GTS Dolphin
GTS Dolphin is Girl Guides South Australia's water activities centre located at Snowden's Beach on the Port River.
Located near the historic town of Port Adelaide it is an ideal spot offering swimming, fishing and boating activities. GTS Dolphin features a range of indoor and outdoor water activities and large indoor accommodation suitable for a range of age groups.
Within an 25 minute drive from Adelaide, this sheltered stretch of the Port River offers a beautiful setting for a camp, with the sand at your doorstep, boats passing you by, and if you're lucky, the Port River dolphins to wish you good morning!
Facilities: Indoor accommodation for up to 47 guests, fully-equipped kitchen, large indoor group space, BBQ, air-con, heating, data projector and screen, whiteboard, audio system, TV/DVD, disabled amenities & laundry.
Activities: Beach games, sail accessibility, canoe and kayak (byo), raft building facilities, dolphin spotting, swimming, fishing (byo), kite flying, games & craft.
Location: 43 George Robertson Drive, Largs North SA  (off Willochra Street, riverfront Snowden's Beach)
RATES:
$40 per person, per night
$15 per person, per day use of property
$200 Cleaning fee applies to all bookings
DEPOSIT:
$400 flat fee deposit
Please note: deposit required on booking and final invoices issued once final numbers advised
CHECK IN / CHECK OUT:
Check in – 1pm / check out – 11am.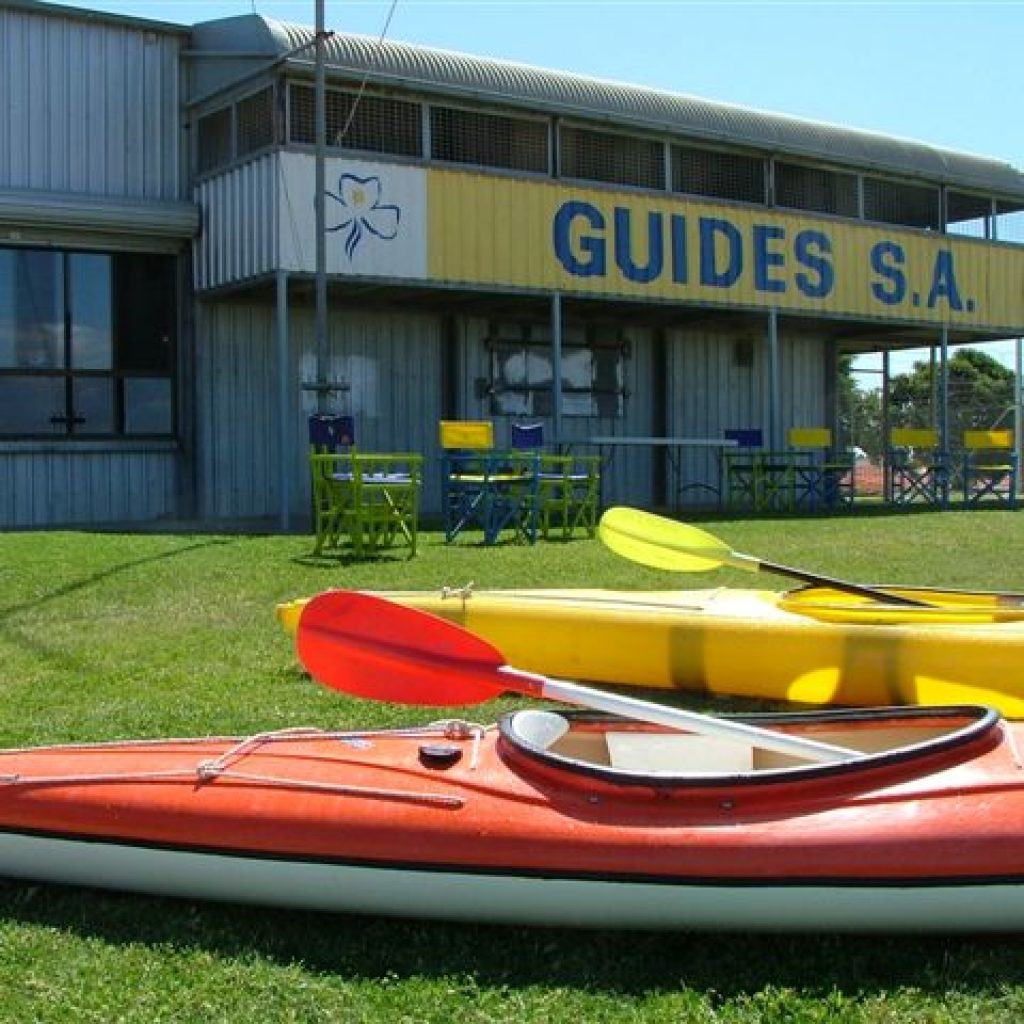 Group Bookings
GTS Dolphin is Girl Guides South Australia water activities centre located at
Snowden's Beach, near Port Adelaide. As a youth organisation devoted to leadership and outdoor education, GTS Dolphin is well suited for many Community, Corporate and School Groups.
The indoor accommodation at GTS Dolphin sleeps up to 47. The downstairs dormitory has 8 double bunks and the upstairs dormitory has 9 double bunks. There are also two smaller rooms, with two double bunks in each room, and one small room with 3 single beds. Protective fitted sheets are provided, but you must bring your own linen, blankets and pillows.
We have on site activities specific to Outdoor Education as well as accessibility for sailing, kayaking and swimming with access to the dolphin sanctuary.
A large open area range can be used for indoor games, or use of the trestle
tables & chairs for craft, meetings conferences and team building activities.
The kitchen is fully equipped for groups of up to 60 to self-cater and there is also a gas barbeque for outdoors cooking.
With air-conditioning throughout, and heaters in the cold, GTS Dolphin is the perfect venue all year round!
Activities
Dolphin Watching
Fishing (Bring your own fishing gear)
Swimming
Power Boats
Kayaks & Canoes
Nature water trails include: Garden Island & Torrens Island, St Kilda, Port Adelaide, West Lakes & the Mangroves.
Sailing & Rowing
Various Bird Watching
Indoor Craft
Local Attractions
GTS Dolphin is within walking distance of historical Port Adelaide, its the perfect base for groups to take excursions to the:
Port River Dolphin Cruise, travel along the historic Port River on one of the many Dolphin Cruises.
Semaphore Road, ride on the vintage carousel, buy ice cream and fish and chips, cycle on the bike track, and ride on the steam train that runs along the shoreline.
Fort Glanville Conservation Park represents a significant period in South Australia's European colonial history.
Largs Bay
Stunning South Australian beaches including Semaphore and Largs Bay
Outer Harbour